With the Faber 13+ you have at least 13 ways to combine the supplied components. This set is particularly suitable for wall construction/wall bars. If you would also like to be able to build the free-standing house, we recommend that you also order 4x the angle T3 (2 pairs). In addition, the horizontal bar is highly recommended, so that the load capacity of the horizontal bar is increased from 15 kg to 80 kg.
The screws to mount the connector W1 on the wall are not included. These can be ordered separately. Depending on the wall, choose a different type of screw.
What is included in the set:
4 building plates
3 pairs E1
1 C1
2 pairs of T2
2 pairs F1
3 wall brackets W1
1 strength strap
2 wooden poles
18 screws short 35mm
4 screws long 50mm
1 key
4 nuts
1 classic swing
2 slide
1 slide connector SL1
1 climbing rope
Guarantee
Properties
Solid beech FSC from Europe
Beech dowels and stainless screws
Weight of the set 16 kg
Load capacity 150 kg
ČSN EN 71 for children's toys
Maintenance
If necessary, wipe with a damp cloth.
What can be built with this set?
Wall bars up to 250 cm high
Wall bars with bar
Leaning wall bars
3D wall bars
big bridge
Small bridge
Mountain
Small overhang
Large Pikler Triangle
Small Pikler Triangle
Wide Pikler triangle
Game table
Garage
And much more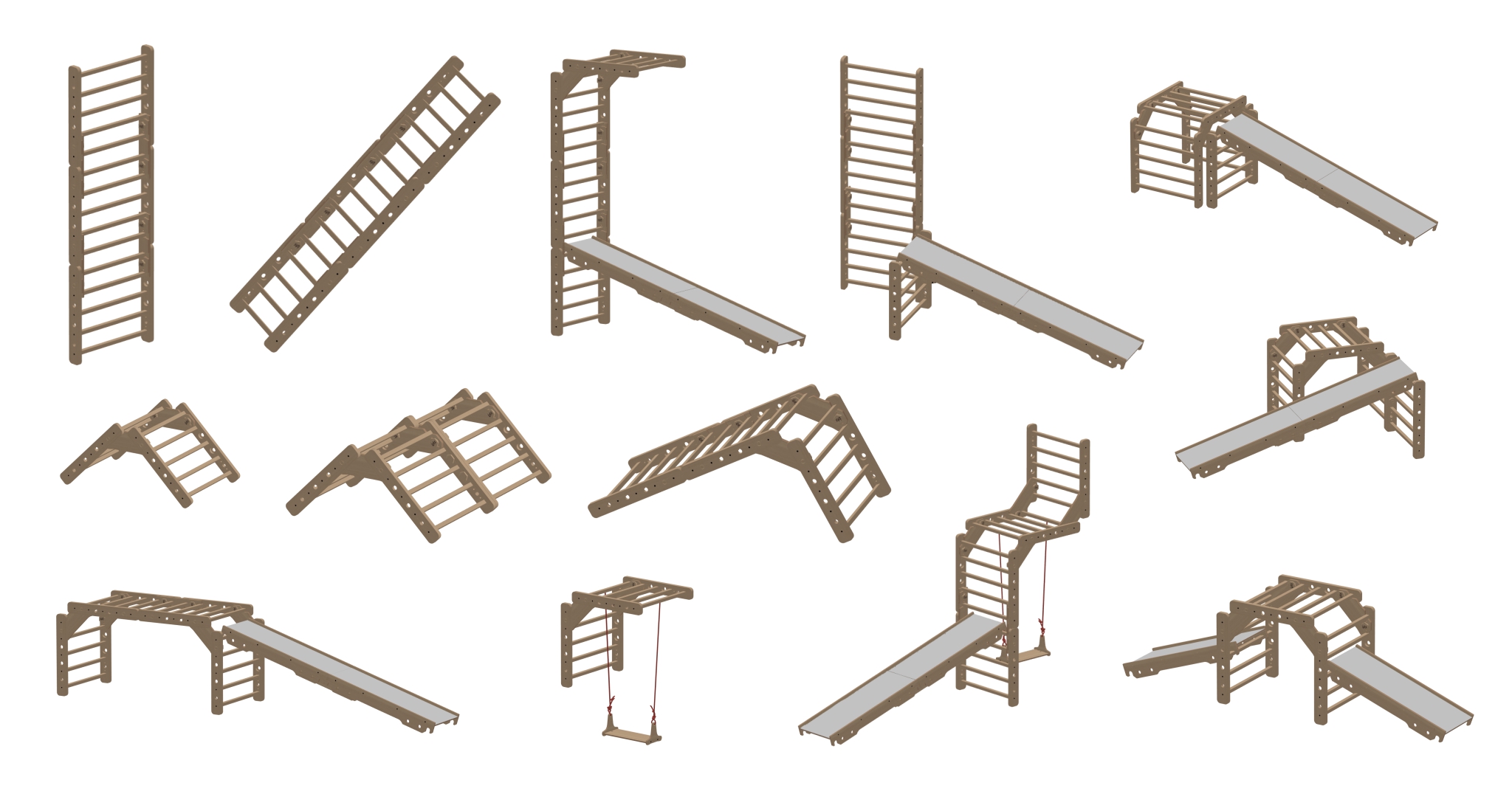 Video Faber 13+
Important note
We and the manufacturer assume no responsibility for accidents and damage. You use this item at your own risk. Children must be supervised when using Antonie Emma items. Before use, read our operating instructions carefully and follow the recommendations and information contained therein.